We're pleased to offer the following services at Pickens Animal Rescue Veterinary Hospital:
Appointments
Our appointment book is computerized which allows us to efficiently make appointments for you and your pet. Our receptionists and team will attempt to accommodate all requests to the best of our ability. Emergencies are accepted anytime our clinic is open. If you feel you have an emergency with your pet, please call us or come to the hospital immediately. If possible it is best to call before coming in so that a staff member can advise you on your particular emergency.
Emergency & Urgent Care
We have a veterinarian and personnel on duty 5 days a week who are trained and equipped to handle any urgent care your pet has. Usually an emergency team consists of at least one veterinarian and several technicians working together to save a pet's life. Emergencies can be things such as rat poisoning, hit by car, and chocolate ingestion. If you ever feel that your pet needs emergency treatment do not hesitate to call or come in immediately. If possible it is best to call before coming in so that a team member can advise you on your particular emergency.
We are also available for urgent care when the condition is not life-threatening. If you feel your pet needs to be seen before you are able to get an appointment, our veterinarians will work to "squeeze" you in between scheduled appointments. When you arrive, our receptionists will be able to give you an estimate on how long you may have to wait in order to be seen.
Types of Pets Seen
Because knowledgeable, experienced veterinarians practice at Pickens Animal Rescue Veterinary Hospital, we can care for many types of pets: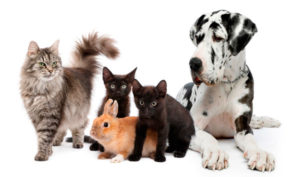 Dogs
Cats
Rabbits
Pocket Pets
Reptiles
Discounts
Pickens Animal Rescue Veterinary Hospital offers discounted services to persons in need and local area rescue groups. Pre-approval is required to qualify for these discounts, please call us for more information.
Our Doctors
Robert Springer, DVM
Robert Springer is a 1990 graduate of the University of Georgia College of Veterinary Medicine. Dr. Springer is an experienced general practitioner who has been providing exceptional care to family pets in North Georgia for more than 25 years. His special interest is working with dogs and cats, providing preventive care and internal medicine diagnosis and treatment. Dr. Springer is a Member of the Georgia Veterinary Medical Association.
​
Dr. Springer currently lives in Cartersville with his fiancé. He enjoys fishing, camping and wildlife observation during his leisure time. He's especially interested in reptiles.
Michelle Cox, DVM
Michelle Cox is a graduate of St. George's University School of Veterinary Medicine. She completed her clinical training in Veterinary Medicine at Auburn University. Dr. Cox mostly practices on dogs and cats, but also sees sheep, goats, rabbits and the occasional ferret. She has a special interest in cardiology, emergency medicine, and end of life care.
Dr. Cox completed her undergraduate studies at Berry College where she majored in Animal Science with a minor in Chemistry. While attending Berry College she became involved with Southeastern Guide Dogs and went on to train six guide dogs for the visually impaired.
Dr. Cox currently lives in the Jasper area with her fiance', their 3 dogs and 11 chickens. In her free time she enjoys hiking, canoeing, gardening, and knitting.